Carolina López-Ruiz P '19 '27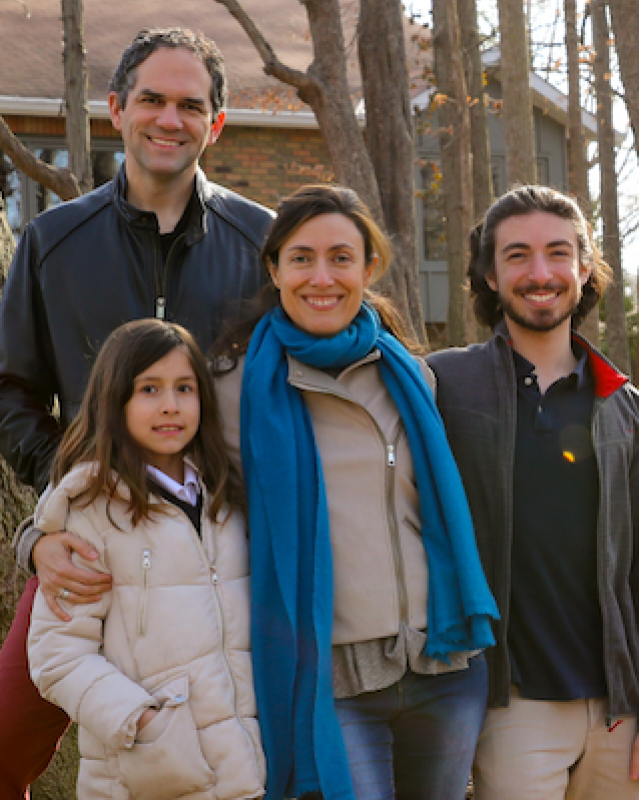 Thanks to Wellington, I didn't have to choose between my favorite neighborhood in Columbus and the best education for my kids.
I love Clintonville because it is diverse, beautiful, fun, and close to my work at OSU. We love the ravine corner where our house stands, the deer, the kids riding bikes and playing in the street, the friendly neighbors walking their dogs, and the variety of unique venues we have at hand in High Street just a couple of blocks away.
Wellington, in a way, reflects the best of what I love about Clintonville: its family feeling, friendliness, happy atmosphere, creativity and cultural diversity, while it also offers a first-rate education. Wellington has been an extended family that we are incredibly fortunate to have been part of.
My son Alfonso started his education in public school, and in the third grade we moved him to Wellington, mainly worried about class sizes and looking for a more intellectually stimulating school setting. The small group sizes at Wellington allow for kids to be themselves while they each find their talents and interests.
Alfonso is now graduating from Wellington and joining the University of Michigan, to pursue his passion for aerospace engineering. His dream is to one day work at NASA or Space Ex. Whether this dream comes true or not, Wellington has allowed him to reach his potential as student. For instance, reaching the math and physics level he needed to be where he is now is a beautiful story of struggle and success thanks to the wonderful teachers and programs at Wellington.
In the course of these years, one of the things that most struck me at Wellington is the family feeling about the school, and the way in which students and teachers interact in a place where respect and dialogue (and appreciation) is fostered since early education. Moreover, Wellington offers students endless opportunities to take on leadership roles or just to just explore different artistic and scientific areas. The field trips to DC, Toronto, and Philadelphia, two-three day nature camps in lower and middle school, and travel abroad programs to France, Spain, and even diving in the Caribbean for an Oceanography class, are wonderful.
In 10th grade, Alfonso took part of an extraordinary opportunity to collaborate with Russian high school students in creating a business project, which culminated with a trip to Moscow and Siberia during spring break, with the Russian students having visited us in January. Yes, you read it, six students and two teachers were in Siberia in March. In fact they even were in Siberian TV! Then this last fall, when Alfonso decided to organize a Model United Nations for the high school, his teachers immediately got behind him and helped him make it happen. The experience at the Ohio UN conference was such a great success that the program will now continue for the next Wellington group to participate, and they are even extending it to the middle school. In other words, Wellington is ready to encourage and support initiatives that come from the students themselves.
My daughter Sarah, almost ten years old and in 4th grade, has attended Wellington since kindergarten. If you ask her, her favorite things are the swimming and skiing programs, her teachers, the plays they stage each year, and art class, in which they explore with so many materials and ideas.
Wellington is a place for ideas. If you don't try it you will never know is kind of the reigning spirit. For us, it is important to have the peace of mind of knowing Sarah, like Alfonso, will grow in a stimulating and happy environment, where she will reach her potential while feeling nourished and respected as an individual.
Another of my favorite things is how children at Wellington learn French as early as three years old, and they do so with native French-speaking, experienced teachers. For my daughter Sarah, French is her fourth language (she speaks Greek and Spanish at home, and English everywhere else). Alfonso has also studied French until 12th grade, and that is a wonderful addition to his education. At the same time, he decided to study Russian and Japanese on his own through private lessons (Russian being the language of the International Space Station he figured it was the thing to do; and Japanese out of curiosity and teen pop culture). Wellington encouraged him (instead of dissuading him to take on too much), and in fact were able to include this language training (not for grade) in his transcript, after conferring with his tutors, and even offered to acquire Rosetta Stone program for him to use at school. I am sure every family has their own stories about how the school has particularly supported their student's initiatives and interests, and the opportunities to thrive they found.
In this last stage of his school education, the counseling program has been amazing. I can be sure that they will help our daughter Sarah decide what path she wants to follow and what type of Colleges are the right fit for her. The counseling staff are just wonderfully human, knowledgeable, and supportive of both parents and students.
One of my favorite things at Wellington is the sense of community across grades. This is an overall feeling, but comes out especially at special events. Like the Prom Pledge, in which 1st graders give priceless tips (and hilarious) to the seniors before the prom, and make them swear the prom pledge to enjoy and be well-behaved (buy flowers for your date and tell her she looks beautiful; do not text while driving; do not speed, etc.) How cute is that? There is also the senior buddies program, in which seniors are paired with lower school classrooms and join them on special days like their Fall and Winter Parties. Alfonso and three of his longtime friends are Sarah's class senior buddies, which is very special.
Although he is graduating, we look forward to Sarah's  upcoming middle school years (and beyond) at Wellington. I love the sense of continuity, stability, and excitement that Wellington provides for families around Columbus.